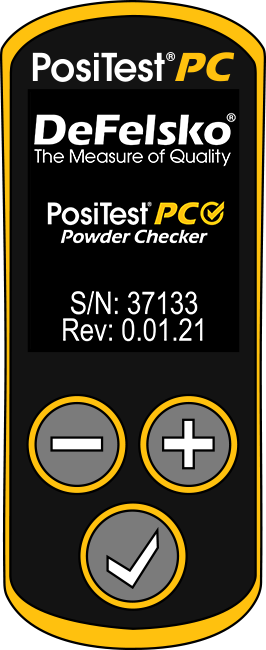 With the PosiTest PC powered off, press and hold the power button. The revision information will appear...
See Software Revision Notes for current revision and release information.
To perform an update the intrument must be connected to an internet connected PC/Mac with PosiSoft Desktop installed.
Note: Any stored readings in the PosiTest PC memory will be downloaded to PosiSoft Desktop prior to updating.
Upon completion of the update, the gage will Reset and ALL stored readings in memory will be erased. PosiSoft Desktop will retain all downloaded readings.
| | | |
| --- | --- | --- |
| Revision | Release Date | Release Notes |
| 0.01.22 | 18-Jan-2019 | - Miscellaneous updates and fixes |
| 0.01.21 | 15-Nov-2018 | - Fixed issue with 1pt and 2pt Adjustment |