Select Gage Info from the Setup menu. Select Next at each screen until the following Package List appears...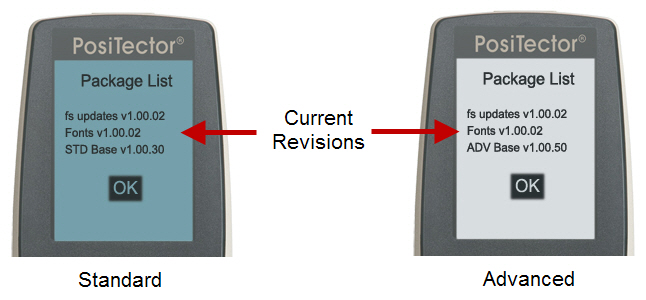 See Software Revision Notes for current revision and release information.
NOTE: Ensure that stored measurements are backed up to a PC or PosiSoft.net. The Gage will Reset after completion of the update and ALL readings in memory would be erased.
PosiTector Advanced users connected via WiFi can skip to Step 3.
Step 1: Ensure PosiSoft Desktop (version 4.1.0 or greater) is installed and running on your PC. If you have not installed PosiSoft Desktop, it can be downloaded here. PosiSoft Desktop is not required when updating via WiFi (PosiTector Advanced models only).
Step 2: Connect your PosiTector to the PC using the supplied USB cable.
Step 3: Select Updates from the gage's Connect menu as shown below
a) Select the Connect menu option
b) Next, select Updates
c) Choose OK to check if new updates are available
d) By default all available updates are selected for install. Select OKto proceed with the update

e) The update process will begin and a progress bar (as shown above) will display. The Gage will power-down upon completion of the update. When powered-on, the gage may reset to finalize the installation.

DO NOT unplug the Gage during the update operation.
When complete, the PosiTector software revision should match the latest package found in the Software Revision Notes below.
Most recent and recommended revisions shown below.
STD Base (PosiTector Standard models with color display - Serial Numbers: 795,375 and greater)
Current Revision
Release Date
Release Notes
7.04.54
5-Sept-2019

- PosiTector UTG probe: fixed issue which could prevent probe zero
- Miscellaneous updates and fixes
STD Base (PosiTector Standard models with color display - Serial Numbers: less than 795,375)
Current Revision
Release Date
Release Notes
7.02.54
5-Sept-2019

- PosiTector UTG probe: fixed issue which could prevent probe zero
- Miscellaneous updates and fixes
STD Base (PosiTector Standard models with monochrome display)
| | | |
| --- | --- | --- |
| Current Revision | Release Date | Release Notes |
| 5.17.00 | 17-May-2016 | - Miscellaneous updates and fixes |
ADV Base (PosiTector Advanced models - Serial Numbers: 784,000 and greater)
Current Revision
Release Date
Release Notes
7.04.54
26-Aug-2019

- IP addresses can now use DNS name
- Miscellaneous updates and fixes
ADV Base (PosiTector Advanced models - Serial Numbers: 730,000 to 784,000)
Current Revision
Release Date
Release Notes
7.02.49
25-Jun-2019

- Added support for PosiTector UTG-P, UTG-CA, UTG-CLF probes
- Miscellaneous updates and fixes
ADV Base (PosiTector Advanced models - Serial Numbers: 702,000 to 729,000)
| | | |
| --- | --- | --- |
| Current Revision | Release Date | Release Notes |
| 5.17.00 | 17-May-2016 | - Miscellaneous updates and fixes |